This recipe is an original recipe and very easy to prepare. Broccoli is overly delicious when prepared and cooked simply, as well as very nutritious since the nutrient content is preserved with simple process of food preparation.
Even if the recipe is simple, it can also compare to the taste similar to the one served with restaurant-quality. This recipe is also great for those who want to entertain visitors at home in large quantity but still looks like it was given enough time for the preparation.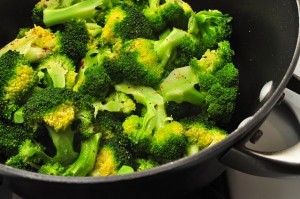 This healthy recipe can shock your guests as it shows how greens can stay attractive and freshly green, with the color preserved, making the presentation brilliant and spectacular. This recipe allows you to become an expert on food though you may or may not be one.
Sauteed Broccoli in Parmesan Cheese
Ingredients:
broccoli florets, 1 pound
Parmesan cheese, 3 tablespoons, finely grated
brown sugar, 1 teaspoon
olive oil, 2 tablespoons
red pepper flakes, 1 teaspoon
kosher salt, ¼ teaspoon
black pepper, 1/8 teaspoon, freshly ground
Directions:
1. In a pot, pour water enough to cover the vegetables. Bring the water to a boil.
2. Get ice and water in equal amounts and put this in a large pot or bowl.
3. Prepare a dish lined with paper towels and set aside.
4. As soon as the water comes to a boil, dip the broccoli florets into the boiling water with the use of a strainer with handle, if possible. Leave it on the boiling water to cook for about 1 to minutes ot until it is tender.
5. Remove immediately from the boiling water still using the strainer. You can also use a drainer to remove the water in a quicker manner and preserve the freshness and color of the broccoli.
6. Transfer the broccoli into the iced water immersing it completely.
7. After a minute or two, remove from the iced water and place the broccoli florets in the dish lined with paper towels. This procedure can be done one or two days in advance.
8. Mix the Parmesan cheese and brown sugar in a small bowl or cup and set aside.
9. In  a large skillet, heat the oil using medium-high heat. Saute the broccoli while adding the seasonings, salt, pepper, and red pepper flakes. Stir once in a while to coat the broccoli properly with the seasonings. After 1 or 2 minutes remove from heat and dust with the mixture of Parmesan cheese and sugar.
Nutritional Information per Serving: Calories: 81 | Total Fat: 5.6g | Cholesterol: 2mg